Move over, greyish nudes! It's time to get rich this fall and winter. We're looking forward to layering and getting even more tomboyish in the chilly weather coming up. In anticipation for the shopping trips you'll be going on soon enough, look to the absolutely perfect fashion predictions by Pantone for this upcoming season. They're vibrant, unique, and perfect to transition out of the greyish nudes we're all so used to seeing by now. It's time to liven it up. The Fashion Report by Pantone professionals goes a lil something like this:
Here are some picks from our favorite everyday-wear brands that'll help you get started with your upcoming fall shopping spree.
The blues are what I was first drawn to in this group of colors, with Riverside, a classic indigo denim look and Airy Blue, an accent statement colorway. You can find the Airy Blue offering in this beautiful, simple dress from the independent MATTE brand, Leo Dress in Denim ($90):
This pick was also spotted in Forever 21's recent collaboration with our absolutely favorite influential fashionista, Aleali May. The "Don't Look Back" Graphic Jacket is spot-on with Airy Blue ($72.90):
Babes at UNIF Clothing are right on style in their newest collection, and this fun sheer long-sleeve called Bop sums it all up. They play with Airy Blue and Aurora Red, along with a yellowish green, blush pink and a sheer black ($78):
We're seeing a lot of green this fall, from army print to rich green velvet, like in this deep-v dress from Nasty Gal, the Oz Velvet Mini Dress. This is definitely the Lush Meadow color predicted by Pantone ($78):
Zara is one of our favorite style inspos and brands, and their drop-dead gorgeous fall/winter collection must have influenced Pantone's predictions because this look is an ode to their color pick Warm Taupe. This editorial shot includes their Palazzo Trousers and High Collar Coat ($129):
More velvet! This padded bomber jacket from ASOS is the best fall warmer-upper. The color is really close to the Pantone prediction Sharkskin ($113):
FILA's recent color patterns are redefining their brand, and we love this long-sleeve t shirt featuring Pantone's Spicy Mustard and Lush Meadow ($57):
This adorable velvet skirt paired with a loose top and choker is the perfect prediction from Pantone's Dusty Cedar. The Velvet Lace-Up Mini Skirt is available at Forever 21 ($15.90):
Pantone's Potters Clay makes a great debut in Tobi's new line. This skater dress is super versatile and the rich color is so very fall. It's on sale right now for $26:
Madewell has a great selection of loose plaids and denim shirts for their fall/winter collection, and we're loving the carefree attitude they are continuing into the winter with the classic ex-boyfriend series. The Flannel Classic Ex-Boyfriend Shirt in Jensen Plaid is rocking accents of Pantone's Bodacious ($82):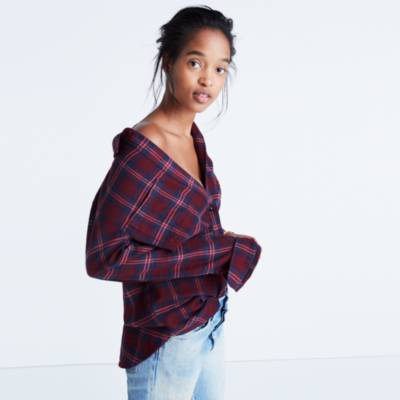 Happy fall/winter shopping!